Little Finger Gallery (Malmö)
17 December, 2016
Moderna Museet Malmö
29 November, 2013
Photo: Rasmus Alkestrand
The Swedish Soundpainting Orchestra – Live at Moderna Museet in Malmö from Tsso on Vimeo.
Lunds Konsthall
21 September, 2013
Photo: Ellen Arvidsson
We were invited by Galleri Pictura to do a performance at Lunds Konsthall (Art Center in Lund), during "Lunds Kulturnatt".


Landskrona Teater
15 November, 2012
Photo: Ellen Arvidsson
We did a show at Landskrona Teater. The title was "Varför Varför Därför Därför".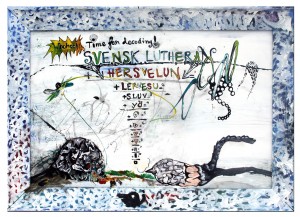 Malmö Folkets Park
 June 15th, 2011
Photo, Film and Audio Recording: Ellen Arvidsson, Victor Bortas Rydberg, Martin Nordbeck